If that doesn't sound like something you'd see on the dumbest automotive channel on all of YouTube, I don't know what would. And if you don't recognize that phrase, go check out Tyler Hoover's years-long habit of buying and fixing busted oddball cars and sharing his experiences on Hoovie's Garage.
That wasn't our intention, but that's how it worked out. We had been searching for a Transit Connect passenger wagon in good enough shape and from a rust-free part of the country–there were a few must-haves, a wish list, some preferences, and a few options we weren't sure about.
Why a Transit Connect Wagon?
Meet Milo. Milo is a member of the family, having just turned 10. He travels just about everywhere, prefers the passenger side window down at speeds less than 60 mph, and enjoys chicken nuggets on road trips. If you have wheels and look like you're going somewhere, he wants to go too. But over the last two years or so, he's had problems with a pinched nerve in his neck, that occasionally causes pain and limits his mobility–what was once an infrequent, occasional thing has become more of a chronic condition. The Transit Connect's low, flat floor between the back of the front seats and the front of the middle row is such that he can step up onto the floor first, then onto the seat, instead of hopping directly onto the back seat as he has to do in a typical passenger car.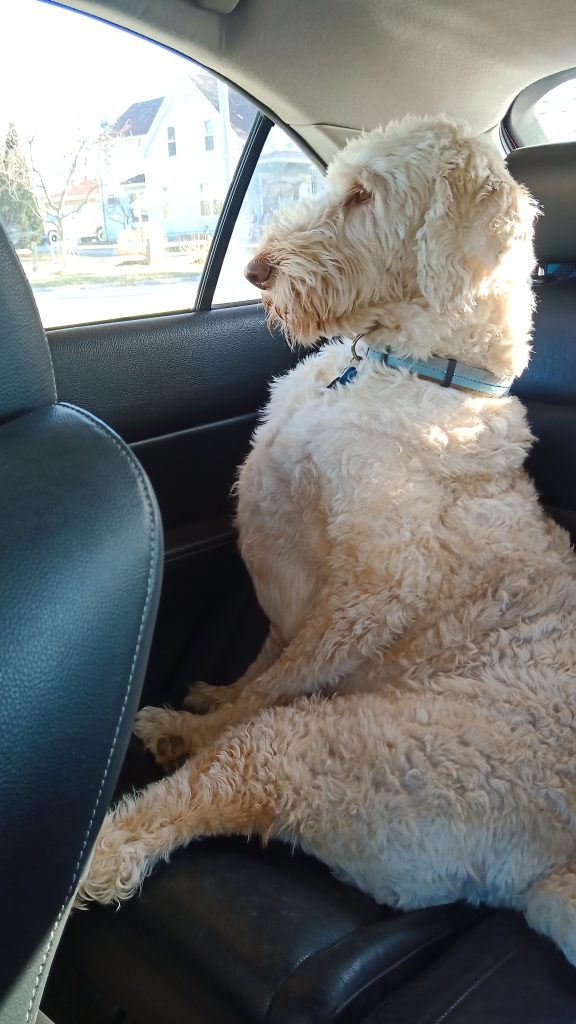 And of course, the other factor is that I went from single to partnered a couple of years ago, and since then most of our trips have been fairly long-distance trips to see one side of the family or the other. That's been amplified since the start of the pandemic, with long trips for my brother's wedding this summer and to celebrate my mom's birthday ending in "0" a couple of months ago. It's one thing to travel with one person, a dog, luggage, and the stuff you need for the project that you're trying to tackle wherever it is you're going. Add in a second person, their stuff, and more projects, and you start finding that the car's packed to the gills more often than not. When you compare the cargo holds of a Transit Connect to a Mazda6 or Focus hatchback, there's a slight difference in how much you can take with you.
Those were the two big reasons, but we also wanted something that wasn't another crossover or SUV, wanted reasonably good fuel economy, and wanted something compact enough for easy parallel parking, getting in and out in tight parking spots, and of course, that offered a comfortable seating position on long trips. And yes, we wanted something a little different.
Which Transit Connect?
Pretty quickly, we ruled out any of the "XL"-trim vans. Almost all of the XL passenger vans have untinted windows, barebones infotainment, no auto up/down windows, and a wiring architecture that's different from the rest of the Transit Connects and not nearly as adaptable with respect to adding optional equipment. Most of these vans were also government surplus, with vinyl seats, uncarpteted floors, and no rear HVAC.
When you look at the options list for the XLT, you quickly see that you can get almost anything offered on the Titanium trim. And, strangely, just about every option is available individually–dual zone climate control, MyFordTouch, the sunglasses holder, upgraded instrument cluster display, parking sensors, rearview camera, barn doors/liftgate, leather seating, bench seat or buckets in the second row, trailer prep, and a few others I'm probably forgetting right now. Just among those options, before we talk about paint color, wheelbase, or engine, we're at 1,536 possible configurations!
The Titanium trim has most of those option boxes checked (many sources list them as standard, but we've come across plenty that don't have all of them), but also have the liftgate and six passenger seating standard (though the barn doors and bench seat were still available). For Milo, who likes to sprawl out across the back seat, the bench seat was a must-have, ruling out many of the Titanium vans we came across. We really wanted dual-zone automatic climate control, and thought we really wanted to have leather seats to get heated power seats with them (while they look the same, it turns out the XLT and Titanium leather seats aren't identical, with the XLT not having an option for heated seats). We also didn't really want white, as so many of the commercial Transit Connects are.
The one we came across in Georgia checked the boxes we needed, though it was listed as having no rear seats. One owner, pretty uneventful CarFax report, horrible pictures in the listing and little information with it. With as poorly as it was advertised, I figured it might be able to be had for less than their asking price (already the lowest passenger wagon on AutoTrader at the time), and I was right.
We negotiated over the phone, on the condition that there were no surprises, and that if they attempted to add a fee of any sort we'd leave without a deal. The dealer walked around the van on a video call, showed us plenty of things that weren't so great, but also showed us that it had a pile of rear seat parts in back! When we went to look at it in person (about a 5 hour drive each way), we found out that the seats had been in storage for some time, as they'd used it as a parts vehicle–good news on the seats, but I definitely felt misled. I was under the impression that the vehicle had been in a corporate fleet and serviced by the Ford dealer now selling it, when in fact it was theirs the whole time. The information we now had regarding its history was far from impartial, but the price still made it a good deal in our minds–at less than $7k, you're practically in the territory of wrecked vehicles any more.
Making a long story short, we still proceeded with the sale and drove the 5 hour trip back without issue. The picture at the top of the page was taken this morning, on it's first breakfast run.